Détails
THIS MODEL IS REDUCED AS IT IS IN USED CONDITION.
THERE IS A MINOR SCUFF ON THE CHASSIS OF THE MODEL. THE MODEL COMES IN A WORN BOX HOWEVER THE MODEL HAS BEEN TESTED AND IS IN FULLY WORKING ORDER.
The Barbarian EXL is a fully built, fully featured, top of the range 1/8 scale off-road monster truck, and comes with many feature enhancements to make this a superb electric brushless motor powered model. This is the Pro version and it is fitted with high quality components - is 4WD and equipped with a powerful brushless motor which gives this monster phenomenal acceleration!
This model is the pinnacle of the brushless monster RC trucks range! Its shiny chrome wheels just finish off the well engineered look of this model. Also you get a choice of colour for the beautifully finished shells - red or blue
It has huge 16mm super big bore oil aluminum shocks, designed to smooth the ride as it speeds over the terrain of your choice; these in turn are secured to the aluminium chassis by a hardened aluminium shock tower. Couple this with the ultra-strength front and rear bumpers and you have a model that should withstand pretty much everything you can throw at it! Although no model is indestructible so we stock a full range of spares and upgrades to enhance and repair your model should a mishap occur!
The Barbarian EXL RC Trucks model is built using advanced components and innovative engineering to get the best performance out of your package. It has a newly developed C-hub steering system, where the king pin axis extends to the wheel centre; this feature improves steering performance. It has a specially designed suspension system, with twin adjustable rear suspension modes which allows for a flexible driving mode and a smooth driving mode. Part of its performance is due to the lightweight ultra-compact gear box; this has a low centre of gravity, assisting with grip and control. The gearbox is also built to be highly durable, so that it can cope better with the hard knocks associated with monster truck use. It has been engineered with a gear ratio that offers both superb acceleration and a high top speed. Not only this but the gearbox consists of all steel gear and is of a pinion design which makes it easier to maintain and repair.
The Barbarian EXL is built around a narrow, but solid aluminum chassis; this centralised chassis design allows quicker steering and faster response. The trucks blows are cushioned by the 16mm super big bore oil shocks, see pictures above. It also has fully adjustable sway bar ball cups, for customisable and better traction and stability, depending on whether you're trucks speeding across tarmac or roughing it over gravel and tougher terrain. Additionally the front bumper is built so that it moves backwards on impact, this can prevent the chassis from becoming distorted or even broken when landing after jumps. All the linkages can be set with adjustable turnbuckle. Due to the amount of power this combination of battery, ESC and motor can deliver, the Barbarian EXL features two cooling fans - one for the motor, one for the ESC. This is no small model, the Barbarian is a beast - 570mm long and with a massive 50mm of ground clearance - on top of this it is almost as wide as it is long!
You'll be able to drive this almost everywhere - tarmac, gravel, on-road, off-road - the choice is yours.
NEWLY DESIGNED C-HUB STEERING SYSTEM
King pin axis extends to the wheel centre, improving steering performance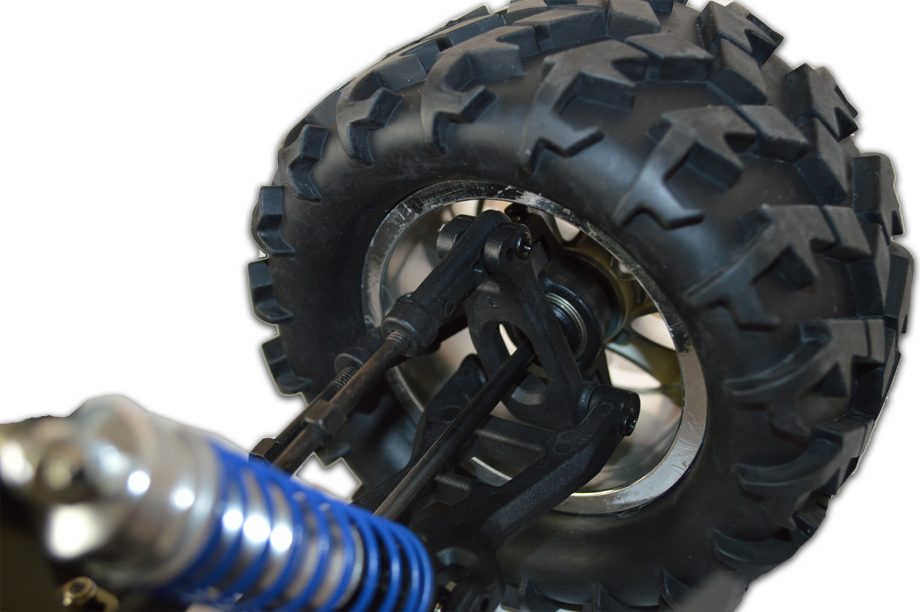 BIG BORE ALUMINIUM SHOCKS WITH SOLID ALUMINIUM MOUNTS
The suspension system is strong and highly adjustable to suit your driving style and conditions.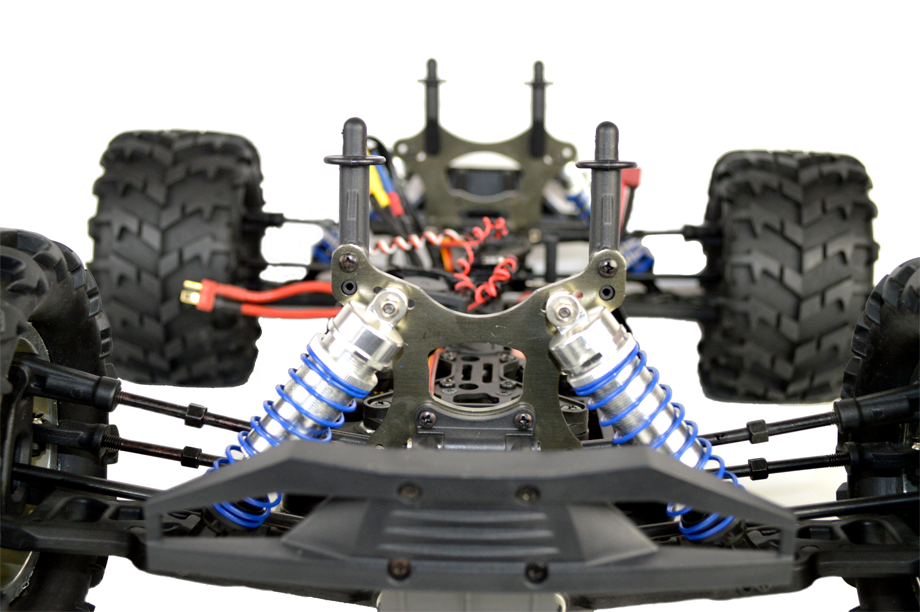 SOLID ALUMINIUM CHASSIS
The chassis is made from thick aluminium and features full countersunk screws.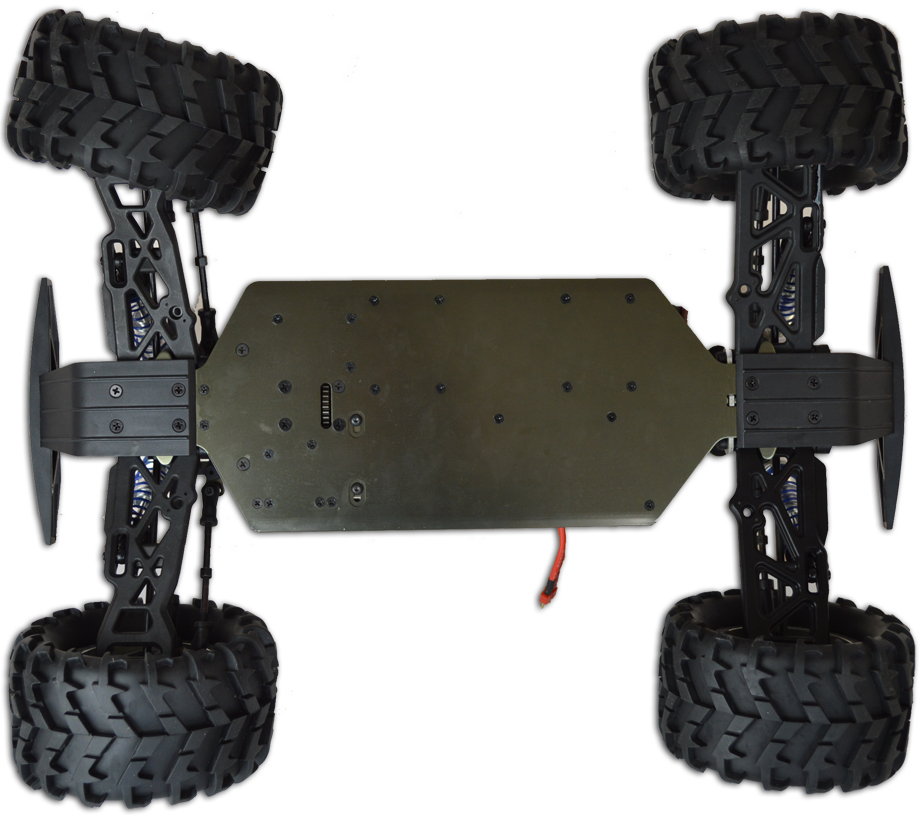 FAN COOLED BRUSHLESS MOTOR WITH ALUMINIUM MOTOR MOUNT AND STEEL PINION GEAR.
The brushless motor in this model is very powerful and is kept at its optimum performance temperature by the cooling fan. The aluminium motor mount with steel pinion and spur gear greatly reduces the posibility of stripping any gears. In this picture you can also see the central differential gearbox which transfers power individually to the front and rear to further improve performance.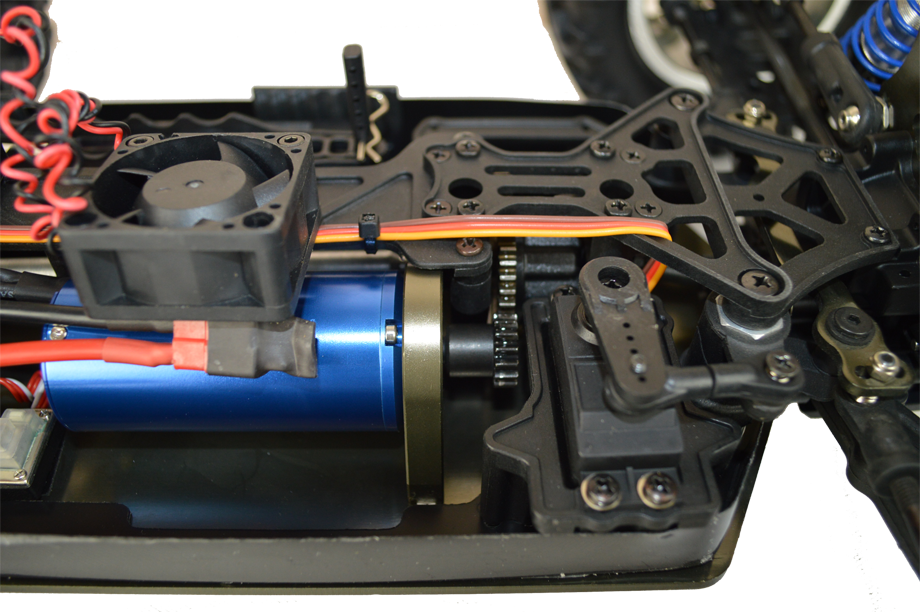 LARGE 11.1V 4000MAH LIPO BATTERY
The truck comes with a high capacity 4000mAh battery. The battery mount size is adjustable to fit most aftermarket batteries.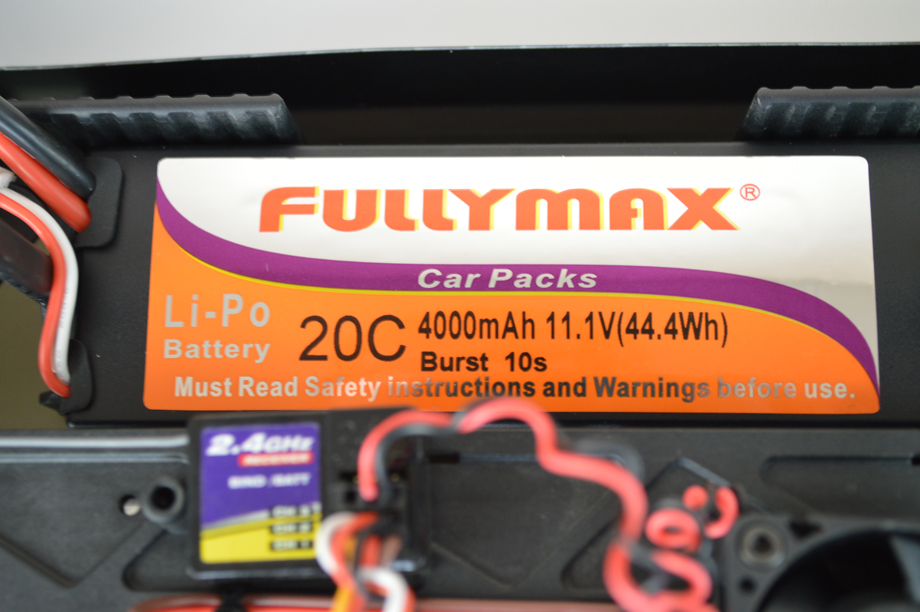 4 WHEEL DRIVE
This model has a 4 wheel drive system for better performance off road and also improved grip when cornering.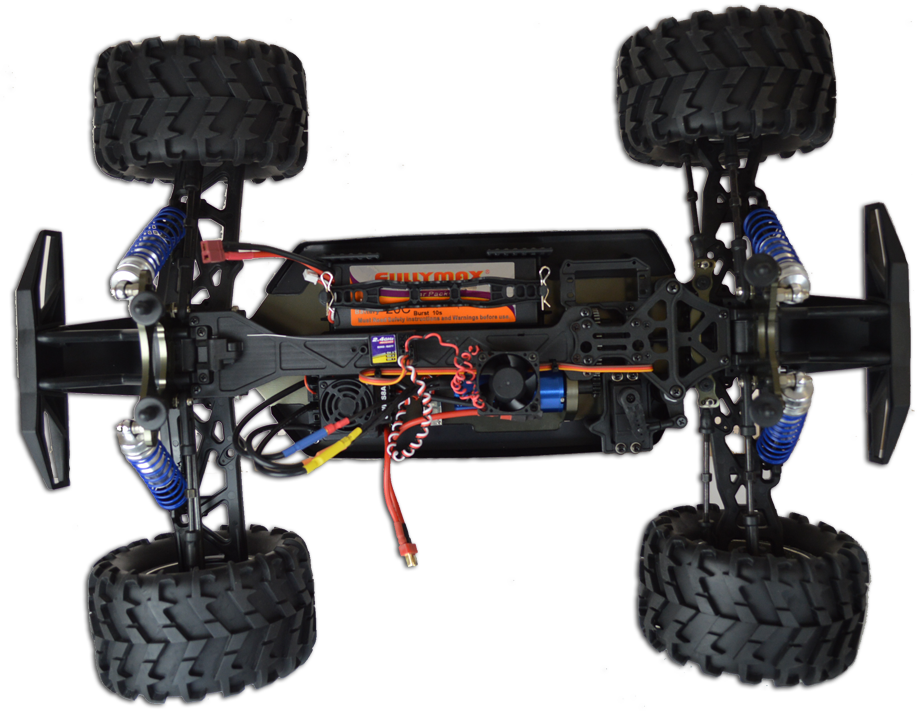 Informations complémentaires
Réf.
REDUCED26
Fabricant
Acme-Tech
Échelle
1:8
Assemblé
RTR
Conduire
4WD
Pour Terrain
Hors-Piste
Équipement Radio
2.4 GHz
Type
Monster Truck
Moteur
Brushless
Spécifications

Height: 230mm
Length: 570mm
Width: 450mm
Wheel base: 370mm
Track F/R: 355mm
Ground clearance: 50mm
Weight: 4600g

Caractéristiques

4WD , Brushless Power System
Nieuw ontworpen C - hub stuurinrichting . Koning pin -as strekt zich uit tot het midden van het wiel , het verbeteren stuurgedrag
Nieuw ontwikkelde ophanging , twee verstelbare achtervering modi voor flexibele rijden
Solide aluminium chassis , gecentraliseerde ontwerp van het chassis tot snellere besturing en een snelle responstijd
krijgen
Motor mount , niet alleen houdt de motor koel , maar ook beschermt de motor bij het springen en bashing
Verstelbare batterijhouder mounts , passen bijna alle stok Li - Pos beschikbaar in markthandelaren
Optioneel mechanische remsysteem , levert nauwkeurige vertraging en jumpingcontrol
16mm super grote boring olie aluminium schokken
Alle stalen gear , machinaal motor tandwiel , machinaal diff . gea
17mm hex alum . wielnaaf
Realistische All - terrain banden met schuim inserts
Ultra - sterke voor-en achterbumpers
- performance ontworpen chroomwiel .
Voor CVD , heeft alle kogellagerconstructie

Je zult in staat zijn om dit te rijden bijna overal - asfalt , grind , on-road , off-road - . De keuze is aan jou
Nécessaire à utiliser

4 x AAA batteries for the radio handset.
Questions:
Il n'y a pas encore de questions sur le produit.
INFORMATIONS SUR LA LIVRAISON
Le coût et le temps de livraison dépendront de la taille des articles commandés
PIÈCES DE RECHANGE
Ils prendront entre 2-5 jours ouvrables. Le coût dépend du nombre de pièces et de la taille.
Germany: €3.70 - €7.40
Spain: €7.40 - €13.30
France: €7.40 - €11.80
Ireland: €7.40 - €8.90
Italy: €7.40 - €13.30
Netherlands: €5.95 - €8.99
Portugal: €7.40 - €10.30
Denmark: 42kr. - 72kr.
Sweden: 52.80kr - 105.60kr
TAILLE NORMALE MODÈLES
Cela ne comprend pas de très grands articles tels que les vélos électriques, les grands scooters et quad. La livraison prendra 2-5 jours ouvrables.
Germany: €7.40
Spain: €9.99
France: €8.99
Ireland: €7.40
Italy: €9.99
Netherlands: €8.99
Portugal: €9.99
Denmark: 72kr.
Sweden: 105.60kr
TRES GRANDS ARTICLES
Très grands articles tels que les vélos électriques, les grands scooters et les vélos Quad. La livraison prendra 2-5 jours ouvrables.
Germany: €49.90
Spain: €49.90
France: €49.90
Ireland: €49.90
Italy: €49.90
Netherlands: €49.90
Portugal: €49.90
Denmark: 499kr.
Sweden: 499kr.
Soyez le premier à commenter ce produit